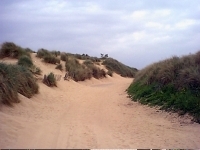 Diary

---

September 2000

Well, nearly two years after the death of my husband aged just 39, I decided to turn my life around, stop doing two jobs just to keep the wolves from the door and sell up and start a new life on the beach with my sons. We've moved into a timber framed chalet on the dunes in Hemsby. Its wonderful, I can sit in any room at the front of the house and watch the rabbits play, hear the waves crashing on the beach and can just see the sea.

My daughter and her two children moved the same day as us and are staying at The Eastern Beach Caravan Park in Caister whilst they look for a house to rent. The kids have quickly settled into school, Sammy and Daniel at Hemsby First, Christopher at Hemsby PreSchool and Mark at Caister High.

Determined to get on line as quickly as possible I arrange for BT to connect me, the big day arrives, man shakes his head in disbelief, calls out surveyor, no can do. They have to arrange for two extra telegraph poles to be installed first!


October 2000

Great News! two telegraph poles grew outside the chalet, got really excited for the second time! Hopes dashed by BT. Torrential rain have delayed them and I have to wait another couple of weeks. The water is due to be turned off at the end of the month and I'm frantically trying to arrange for an independant supply before then. Got up one morning after a storm and found we'd no electric! The overhead power line had snapped in the wind and I had to get the emergency crew to repair it.

Things are looking up, nearly the end of the month and my phone is connected, whats more BT sent me a substantial cheque by way of compensation for the delay.

October 30th, turned on tap NO WATER!!! These things take so long to arrange, or at least they do here!

Still my heart lifts every time I drive home through the sand dunes. I may be crazy but I think this is the best thing I've ever done.

November 2000

Well I was lead to believe that getting the water connected was a minor matter that would be relatively cheap. No such luck, it turns out that when the water board told me that, they were only referring to the actual connection they would make once I had laid pipes to a main a minimum of 2'6" (I'm not metric yet!) deep!! I've arranged for someone to do the work but they have to dig for what seems to be miles.

Suzanne has rented a house in Ormesby, a mile or so away, good job, I have to get water and bathe somewhere.

Decided to have fireworks on the beach, idiots we are! Very rough and windy, the children kept crying because they said we were in a sandstorm. but us adults were determined..........gave up on the beach and went to the back garden, first firework we got alight set fire to the dunes that currently comprise of my back garden!! Suzanne and I collapsed with laughter, totally incapable whilst the children screamed and Suzannes boyfriend,Adam, ran around like a headless chicken grabbing a fire extinguisher and waving it above the flames. Big burnt patch in back garden.

The children have started to sound like they belong to someone else, they have all been very quick to pick up the local accent, and whilst we like it, it sounds very strange coming from your own children who you are used to hearing differently.

David came to stay for a few days and before I knew it he had got a job at the holiday camp up the road and moved in there.




December 2000

Still no water but the trench stretches on forever.....maybe by Christmas.

Christmas decorations around here started going up just after bonfire night - oh well, when in Rome....

In view of the amount of electric I was using to heat the place I've had a wood burner installed, when the guys came to give me a quote they (having been stuck in the dunes several times and having to get towed out) said "do your really LIVE here? Are you SERIOUS?" well I am and I think they're the mad ones for not wanting to. Anyway, now I've got the wood burner it gets so hot I have to keep the front door open!

I love bargain hunting, and here I am in my element, a car boot sale or auction every day of the week if you wish....I suppose its time to go back to work, I've been spending money like it's on a tree in my garden, so I've decided to do what I love and buy and sell bric a brac etc, maybe in the summer I can rent a unit and have a car boot shop.

The children pick things up so quickly, Christopher (aged 3) was in the back of the car the other day when I was en-route for his mums. "Where are we going nanny" he said "to your house" was my reply, "Quick, turn round, we're going the wrong way" was the reply. And we were.

It may be December but we still go walking on the beach, somedays are wonderful and we just need jumpers, but even when its cold it is exhilarating walking down the beach and gazing out to sea.....why didn't I do this years ago?


Nearly Christmas now, yesterday one of my neighbours stopped me and said "I hear your water is being connected today", news to me but I have faith in the local grapevine. Went to my Mums for the day and came back fully expecting to jump under shower.No such luck, but bright and early today we had water.......big fights to get in shower, no big fights to use washing machine or wash up!!


Does any intelligent person out there want to tell me why there are so many rainbows here, and why you can see so many more stars?

Well it's December 31st, Christmas was quiet, David worked, Suzanne Sammy and Chris went to Adams so just the boys and I. Just after Christmas it snowed, it was amazing walking on the beach while it was snowing. I got pulled up by the police because of a faulty back light, they breathalised me even though it was 8.30am (said it was mandatory) no alcohol in my body at all - quite a surprise, I drink too much - grapefruit and lemonade all next week! trying to give up smoking too, next week, bad cough, asked doctor when I first moved here and he said to wait til after Christmas, but he is going to give me this new pill. Going to try hard but we'll see......

Celebrating New Year at home with the boys, could have gone to fancy dress party at Adams caravan site but still living down being legless on Christmas Eve, and still healing the wounds that I got falling over on the way home!! Also it cost £25 for the taxi then so I can't face the fees again today.




January 2001


When I first moved here it was very windy and one day as I opened the front door a dining room window crashed to the ground, I then discovered that none of the windows at the front of the house had hinges!! I vowed to keep them tightly shut until I could sort it out in summer however strong winds again this week once again detached a window from its lodging. I've spent a day siliconing them all shut, okay for now but a pain in the proverbial when I try to sort them out properly.

Beautiful day today, Daniel and I have been walking on the beach, so uplifting.

A few days ago we kept nipping out to watch the lunar eclipse, not too impressed but the reflection of the moon on the sea was magical.

I now have so much stock for my stall that I dont know where to put it, have to get organised and sell some!

Started taking the anti smoking drug (zyban), it takes a while to get into your system so you smoke at first, went on an all day shopping trip and sdidn't smoke once (and didn't miss it), so hopefully it will work, my downful is going to be when I'm doint nothing.




February 2001

Michelle and Andy arrived to stay for the first weekend in February, we had a brilliant weekend, the weather on Saturday was okay and we had a fantastic time tobogganing down the sand dunes!!
The kids kept screaming for a go but we didn't want to relinquish it!! In the evening we went to the club and they found out that Michelle was celebrating her 18th and I'll say no more than "a great time was had by all"!!

I now really must get started selling the stuff I've brought for my stall, but I keep putting it off, I really decided that I would sell this Sunday but Adams mum bribed me with a shopping expedition to a car boot sale and large pound shop in Norwich. Well you know, a girl has to have some priorities!Decided that I would start the next weekend but woke up to torrential rain, typical. The following weekend Andy and Michelle came up again and next week is Daniels birthday so that means I cant start until mid March................maybe I'd better wait til Easter!!

The kids have had us in hysterics again, Daniel at nearly 7 is the oldest of the little'uns and occasionally takes great delight in winding them up. The other day, driving to school, he did this so successfully that they were both soon wailing despite Suzanne and I telling them to shut up, even Daniel got fed up with it and all of a sudden out of the blue came his voice "My God, no wonder I don't want children"!!!

Well, winter has arrived in Norfolk with a vengance, snow showers on and off for over a week - thank heavens for the wood burner.



March 2001

It is nearly the end of March, but I've been so busy that I have not had time to update my diary before now. My father, although frail, had been in good health but was taken ill earlier this month and sadly, died last week. Although my family and I are very sad our main worry is our mum who had been with him for 63 years, her life is going to change radically, but she's a strong woman so hopefully she'll be okay. Anyway my eldest brother and I are constantly on the phone to her and I intend to visit once a month or so, and my middle brother and his wife, who live close to her, are a constant source of strength.

When we moved here we were told that you rarely saw snow on the beach, well we've seen more snow this winter than we have for years, yesterday was the first day of Spring and we were caught in a snow storm as we walked on the beach!

Our light relief this month came from grandaughter Samantha who, as Suzanne is not working at the moment, was informed that she was entitled to free school meals. We were very puzzled when she seemed extremely upset by this and hastened to explain that she wouldn't be singled out and that her friends wouldn't know, however her distress continued. It was only after she wailed several times "but what if I dont want them?" that it suddenly clicked. "No, Sammy" I explained "You don't have to eat three dinners a day, you just don't have to pay for the one you are given!". Elocution lessons for both her and her mum I think!

Suzanne's six monthly lease was up for renewal this week and she was reluctant to renew it as she feels stranded in the village (she doesn't drive), she rang up about a holiday chalet available until 01.11.01, we looked at it on Tuesday at 9.30am, by 1.30pm she'd all but moved in! The kids are so excited (and so am I, if the truth be known) swimming pool, club, takeaway and supermarket all on site, plus a large park and crazy golf etc. I plan to abuse her hospitality as much this summer as she has abused mine all winter! It is a half an hours stroll down the beach from my house, wonderful when it's warm. As a bonus, the man who is renting it to her told us that he is about to buy a bungalow on the dunes here, in Hemsby, and that when her tenancy there expires she can, if she wishes, rent that long term.

Michelle and Andy were up for the last weekend of March as it was Adams birthday, we all went to his club but as Andy had been ill and Suzanne and I were frazzled it was a quiet evening.

The weather has improved though, snow last week and temperatures in the 60's this weekend. We are all looking forward to summer, we thoroughly enjoyed winter here, so summer is going to be magical (even Daniel, who found leaving his school friends from Letchworth very difficult, confided to me the other week, when we were staying in London, that he longed to be home in his (my!)own bed by the beach).

I fully intended to do a boot sale stall this week, however Saturday was out as we were too busy sorting out Suzannes chalet. So Sunday was to be the big day - the guy who supplied and drove the van to move all Suzanne's big stuff asked if he could'd borrow my car until Wednesday as his is in for repair and he cant get to work. Oh well, there's always next week!!