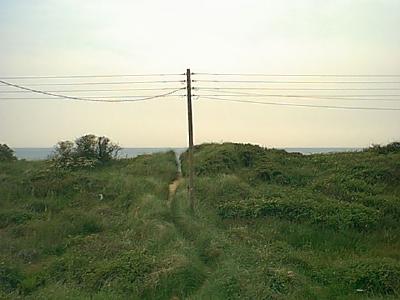 More Diary

---

April 2001

Well April has been a very quiet month, but its been bloomin cold, lots of rain sometimes the puddles in my road are more like ponds!

Had an old friend come to stay from abroad for easter, so that was nice, always good to catch up on old friendships, took the opportunity of having an available driver (I hate driving!) to go visit mum so that was a bonus, it delayed car boot business again though!

Well eventually got my act together and started boot sales towards end of month, didn't do too bad, looks good for when the summer season starts in earnest.

Christopher (age 3) has a girlfriend, he's really put out that shes not allowed to sleep over!

My giving up smoking campaign went completely to pot, forgot to take Zyban when dad was ill, and by the time he died it was completely out of my system, smoking again like a trouper! I didn't have enough left to try again, going to have to visit doctor and grovel, but he said it was a one off thing. May have to buy it on private prescription but it costs an arm and a leg.



May 2001

Well May at least started dry, boot sales now starting in earnest, can do one every day except Monday if I like, but sticking to 4 days until season gets going. First weekend in May did 2 sales, forgotten how cold it is standing for several hours in field with wind blowing straight off North sea! Stopped shaking an hour after I got home! Second weekend in May I got sunburnt!

Had first bbq of year, I cant get over the magic of living here, brilliant all the time, but on warm days I look around and realise that it's not just a holiday, I really live here, I dont have to go home, it is home. Love it.

Bad news, car very sick! Its a shame, I'm very fond of my old sierra but I'm told it wont go through another MOT without repairs that are not ecconomically viable. Have to look around for another oldish car, no point in having decent one here, always full of sand and gets scratched everytime you drive down road. Have to look out for van or estate, its a real bind keep loading and unloading car.

Locked my keys insde car the other week, had to take Daniel to school in cab, spent several hours trying to break in, then young lad comes past, gets coat hanger, two minutes later job done!!

Daniel produced a pile of his books the other day and asked me sell them for him at boot sale, turns out he wants the money to buy me a present for my birthday in a couple of weeks! Having children does have some compensations doesn't it!

Had really good fun at whitsun, a friend was coming for the weekend, but the weather was bright and sunny so I persuaded him to do a couple of boot sales with me, he took to it like a duck to water and stayed all week, it was a real laugh having someone helping (and meant I could keep sloping off to wander round!).I expect the next couple of weeks will be fairly quiet, but its looking good for a thriving business in summer.




June 2001

Well my friend Chris, who came to visit over whitsun enjoyed it here so much that he decided to move down here and try to make a living doing the same thing. We have gone into partnership together, its so much more fun having someone to lug all the stuff about and watch the stall while I go bargain hunting!

Had a laugh the other day when a small boy wanted his mum to buy him a boomerang. "It's a stick" she said, "It's not" he replied, "What happened to the last one you had?" she asked, "I threw it over the back fence and lost it" he said "Didn't it come back?" said she, "No" he replied "See" she said "I told you it was a stick and I'm not buying a stick!"

Well the business is very up and down, the weather badly affects sales, if its too hot people dont buy and if its wet we cant work, sat in the car in a field the other morning listening to the weather forecast (local radio) as they were telling us that the day would remain dry until after lunch our stock was floating down the field whilst a monsoon raged!



July 2001

Well summers really here, officially became traders after learning the tricks from other booters and getting a card for the local wholesalers, more and more of our stock is new toys etc and we are considering moving on to a market stall.

We've had a few laughs with other stall holders, we all met up at a sale in Sheringham one Friday (50 miles away) only to find that there were no signs advertising the event and only 5 of us there. After a conference and a few mobile phone calls to other traders on their way there we all pulled off and drove in convoy to another sale 15 miles further on.

The rain is becoming a major problem, it seems to be a very wet summer, in despair after being rained off half the week Chris had a brilliant idea, he put one table on top of another and sheeted them up like a market stall, at least we managed to sell a few bits.

The afternoons are usually warm and we have been coming home from work and going down the beach for a swim. This is the life!

Major disaster, the roof in Suzanne's chalet has caved in, there is an enormous hole through one of the bedroom ceilings, she has been moved into bed and breakfast by the environmental health agency while they try to find the owner of the chalet (who appears to be missing) so he can repair it.


August 2001


When Chris moved here he came complete with cat, Libby has been very poorly eversince and eventually the vet advised putting her to sleep. The children were all very upset and so I acquired two kittens, lily and sooty. They are very entertaining but we had a few problems with 'accidents' on the carpet, turned out that Christopher was so afraid that they would get out and get lost that he was locking the catflap everytime he found it open!

Went for a haircut at the local shop just on the beach, and was offered the chance of renting half the shop for the rest of the season, by lunctime the next day we were set up and selling like crazy.

Popped into the local rescue centre and bought home a dog!!!!!! Storm is a lurcher, she is wonderful and very well behaved, was a bit worried about the kittens, but at first she was scared of them and they stayed away from her. However after a couple of days I heard a scrap between the dog and them and David laughing like crazy, turns out storm was asleep on the floor dreaming and twitching her ears, the kittens got closer and closer and suddenly pounced, one on each ear......the dog soon woke up!!!!!!!

Well the shop may be a bit more settled but I really miss the atmosphere of doing the boot sales, still the season ends soon and we have to plan how to earn a living this winter.

Good job we are in the shop at the moment because I solved the problem of my sick car by writin g it off hitting a manhole cover on an unmade private road. The AA had to tow the car back to the house, the driver took one look at my road, put his foot down so he didn't get stuck in the sand and kept his hand on the hooter, holidaymakers were scattering all over the place!!!!!!!!