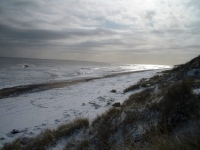 Even More Diary!

---

September 2001

Well rain stopped play so to speak. This month has seen hardly a dry day and people dont want beach toys in the rain! We have decided to close early for the season and go back to doing what boot sales we can, we are members of the market traders federation and are toying with the idea of just doing markets in the winter season BUT I've had a brainwave (??), very few shops are open here in the winter and not everyone has a pc and so I've had the brilliant idea of offering a complete shopping service for Hemsby and the surrounding villiages. People can phone us by 5pm with their shopping list and we will collect and deliver their order by noon the following day for just a fiver. I've had Chris constantly printing leaflets for days and David delivering them - well I had the idea so I'm entitled just to supervise! You never know it might work.

We were offered a shop in Gorleston but it was in a quiet area and the newsagent had just closed due to lack of interest, I suspect we were wise to turn it down! The shop on the beach has changed hands and we are in with a chance of renting it for the whole season next year, it would be brilliant. Roll on next summer.


Chris is very accident prone, if there is a chair in an empty room you can almost guarantee he will fall over it, I now just shake my head in disbelief whenever he disappears on the floor or the boot of the car crashes down on his head, However he surpassed himself the other day - as we were driving to a boot sale he decided to open the sun roof, round and round he winds the handle.. and slips punching me straight in the jaw. He did not endear himself to me by laying in his seat with tears of laughter rolling down his face whilst I tried to control the car and avoid hitting the oncoming traffic!




October 2001

Well it wasn't such a brainwave after all!!!! Thousands of leaflets about my shopping service resulted in just one enquiry and she rang back the next day to cancel because her husband wouldn't allow her to pay someone to shop for her! Back to the drawing board.

Chris and David have signed up for agency work but the jobs are few and far between. Still doing boot sales but I suspect that shortly I too may have to get a job and earn an honest living!




November 2001

Well bonfire night on the beach really happened at last. It was a lovely warm day and Chris and David spent the afternoon diggin a pit for the bonfire, we set up the barbeque on the beach, word got round and it turned into quite a party. We watched our fireworks go off whizzing over the sea. Perfect - everyone got very happy!!!!!!!!!

Had sky digital installed ready for Christmas, man came out shook head, cant do it! More than his job is worth to screw satellite dish to wooden building! But while he was mucking about he moved tv aerial and we couldn't get any picture so he phoned head office and the result was that he could install dish as long as we put up bracket for it (he doesnt do brackets on wooden buildings) had to run backwards and forwards to local tv shop while it got darker and darker! Anyway at 6pm we had digital, man drove away like a madman!


Decided I could no longer live without a bath, a shower is okay but nothing beats a long hot soak. I cant build an extension as planning permission on the dunes is suspended and so I am getting a large shed attached to the back of the house and cutting a doorway through from the inside. When its finished its going to be a luxury bathroom! Suzanne has offered to pay for the shed as a Christmas present, I am really excited.